Jurnal Pengabdian Kesehatan merupakan jurnal ilmiah hasil-hasil pengabdian masyarakat didalam pemberdayaan di bidang Kesehatan yang diterbitkan oleh Lembaga Penelitian dan Pengabdian Masyarakat (LPPM) STIKES Cendekia Utama Kudus secara berkala 2 (dua) kali dalam satu tahun.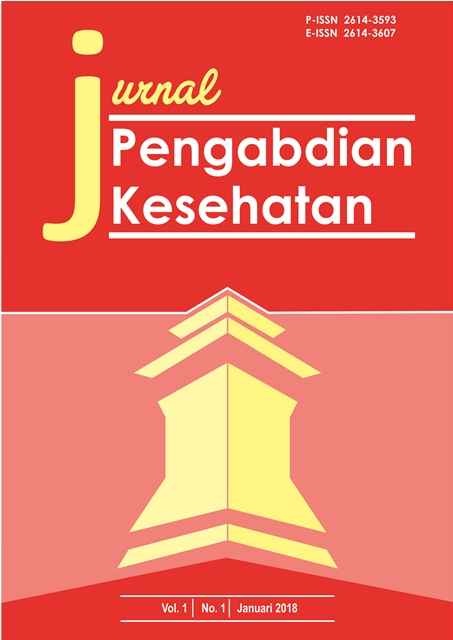 Announcements
Accredited

Jurnal Pengabdian Kesehatan has been accredited by the Ministry of Research and Technology in the periods 2018-2022. It is accredited in Sinta-5 since 2018 (No. 200/M/KPT/2020, Vol.1 No.1 2018 - Vol.5 No.2 2022)
Posted: 2021-09-03
Vol 6, No 2 (2023): Jurnal Pengabdian Kesehatan "April"
Table of Contents
Articles
Ervi Suminar, Widya Lita Fitrianur, Wiwik Widiyawati, Dewi Nur Fatkhiyah, Muzayyana Danifatun Nava

Abstract viewed : 43 times |

PDF files downloaded : 33 times

85-95
Wulan Agustin Ningrum, Urmatul Waznah, Khusna Santika Rahmasari, Slamet Slamet, Fadia Indah Balqis

Abstract viewed : 28 times |

PDF files downloaded : 18 times

96-100
Paridah Paridah, Dewy Haryanti Parman, Ramdya Akbar Tukan, Dewi Wijayanti, Najihah Najihah, Nimas Ajeng, Sarifah Sarifah

Abstract viewed : 27 times |

PDF files downloaded : 28 times

101-108
Endri Ekayamti, Dhian Luluh Rohmawati, Rini Komalawati

Abstract viewed : 52 times |

PDF files downloaded : 42 times

109-118
ismawati ismawati, Ilhami Romus

Abstract viewed : 44 times |

PDF files downloaded : 28 times

119-128
Much Nurkharistna Al Jihad, Siti Aisah, Yanuan Ben Olina, Ernawati Ernawati, Dewi Setyawati, Edy Soesanto

Abstract viewed : 33 times |

PDF files downloaded : 17 times

129-137
Evi Susanti Sinaga, Dini Anggriani, Dini Afrizon, Kartika Putri

Abstract viewed : 30 times |

PDF files downloaded : 15 times

138-147
Acivrida Mega Charisma, Yohanes Abdi Kapri Negara, Farida Anwari

Abstract viewed : 54 times |

PDF files downloaded : 58 times

148-155
Mei Rianita Elfrida Sinaga

Abstract viewed : 35 times |

PDF files downloaded : 18 times

156-164
Lilis Sugiarti, Rifda Naufa Naufa Lina, Dian Arsanti Palupi, Heni Setyoningsih, Yulia Pratiwi, Hasty Martha Wijaya, Annis Rahmawaty, Rakhmi Hidayati, Anita Dyah Listyarini, Nur Choiriyah Choiriyah, Melisa Octa Lusiana, Irvan Kurniawan

Abstract viewed : 45 times |

PDF files downloaded : 39 times

165-172